GERMAN TIGER 1 505th Late Version 1/16 Tank Full Interior - FORCES of VALOR
GERMAN Sturmgeschütz III (StuG III) Ausf. G 1/16 Tank
Available now for sale on Tanks page
Refer to Tank Gallery for more details
STAR WARS IMPERIAL CARGO WALKER AT-ACT


1/9 KIRIN GERMAN MG42 GUNNER TOTENKOPF, KHARKOV - RESIN FIGURE
1/16 S & T German SS MG-42 Gunner / MP40 Riders Kharkov
STUg III 1/16 LATEST PHOTOS BEFORE PAINTING
Finally finished all armour fenders and frames, added final detailings.
Star Wars Black Series 6" Custom Figure - Luke Skywalker Tatoorine A New Hope
Refer to Figure Gallery for more photos
1/16 German Tank Crews - Verlinden 120mm Resin Figures
Please see the Figures Gallery Section to view all the photos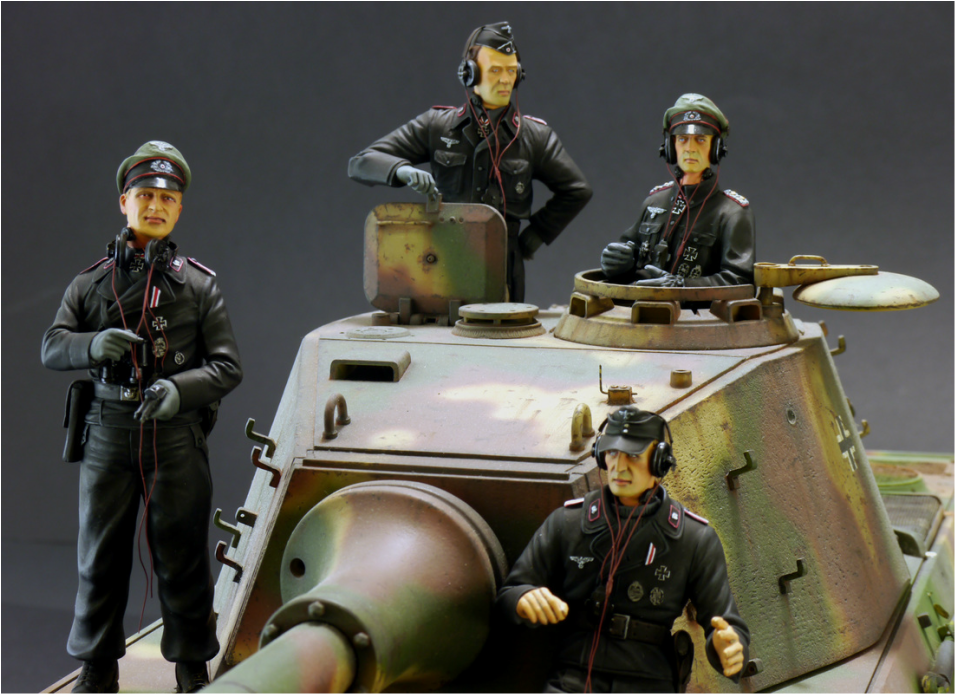 ---
Updated version of 1/16 Panther G with full armour fenders
Here is an update of the 1/16 custom Panzer Stug III





Transformers Age of Extinction Movie 4 Optimus Prime First Edition Figure


Custom converted from a Hasbro First Edition figure. The original figure look more like a truck than an actual movie figure with big part of the truck stowed on his back which look totally clumsy and unreal. My work involved getting rid of his back load and completely rebuild the back portion with all the engine and exhaust pipe details. A lot of work also being spent on the truck mode with added authentic truck accessories and movie accurate paint job. The figure is currently for sale on ebay under user name 'praji'. Check out the Figure section to see all the details.


Transformers Generations Springer the Triple Changer Autobot


The North Africa legends continues -
British Army Sherman MKIII 1/16 Custom RC Tank


The Panzer III Ausf.L Afrikakorps is here:
The birth of the 1/16 King Tiger Porsche Turret:

The second Panther G has come alive:

This is the second Panther G that was made based on the previous Panther G sold on ebay. It was requested to be built the same way but with more damages. You can compare both and see how it was built and this time even better. See all photos of this new tank by clicking on the image below or see my Tank Gallery.

Recent feedbacks and comments on ebay:

CUSTOM 1/16 GERMAN PANTHER G PANZER V TIGER RC HENG LONG BATTLE TANK METAL PARTS (#160947171242)

Hello , I am a member of the XXX RC Tank club and see great work from the guys in the club. But I just had to tell you how amazing your details are on both your projects.You have raisd the bar for me to do better on my own tanks.thx! Good luck with your sale.


"Hello! If i could make a model half as good as yours i would be a very happy chap!"

" I would however like to compliment you on the model, it is Stunning! Very skilfully done to an amazing standard. I have some modelling skills but nothing that compares to yours."


"Amazing paint job, this seller is a true artist at what he does, thanks!"

"I just had a look at the Panther tank you have on ebay. I was really drooling over my keyboard. I have the forces of valor Tiger and King Tiger and thought they were good. Looking at what you offer they seem no more than OK. You have taken weathering and realism to a new level, well done!"



"hows it goin!! awsome tank!! i really like the work you have done on it!! it looks great!"CUSTOM 1/16 GERMAN PANTHER G PANZER V TIGER RC HENG LONG BATTLE
TANK METAL PARTS (#160947171242)
CUSTOM 1/16 KING TIGER PORSCHE TURRET - HENG LONG RC TANK
CUSTOM 1/16 PANTHER TANK - HENG LONG
CUSTOM 1/16 JAGDTIGER TANK - MATORRO
SOLD - reproduce upon request
Coming Attractions:
King Tiger in 1/16 scale